24 Hours Emergency Towing Service
At Flag Towing we understand how stressful it can be when a vehicle problem arises; That's why our professional and courteous tow truck drivers will go the extra mile to get you back on the road in no time. 
Call Us Now (972) 567-7299
Stuck on Dallas Parkway in Plano, TX or the Central Expressway US-75 in McKinney? No matter if your are on Dallas North Tollway in Frisco TX or President George Bush Turnpike in North Dallas, Flag Towing is a 24-hour local tow truck service to assist you at your location. We guarantee prompt help for any towing needs. Feel safe and secure with our highly professional and background-checked drivers.
Thousands of cars break down in the scorching heat of Texas. Getting stranded on the roadside is frustrating and can be potentially dangerous. Roadside emergencies require quick and proficient help. Because the last thing any driver stuck on the road would want is to wait long times for a towing service to arrive. Flag Towing makes your life easy. We do all the heavy lifting by quickly reaching your location with the best vehicle towing equipment so you can stay safe and get back on the road quickly.
24 Hour Emergency Towing Service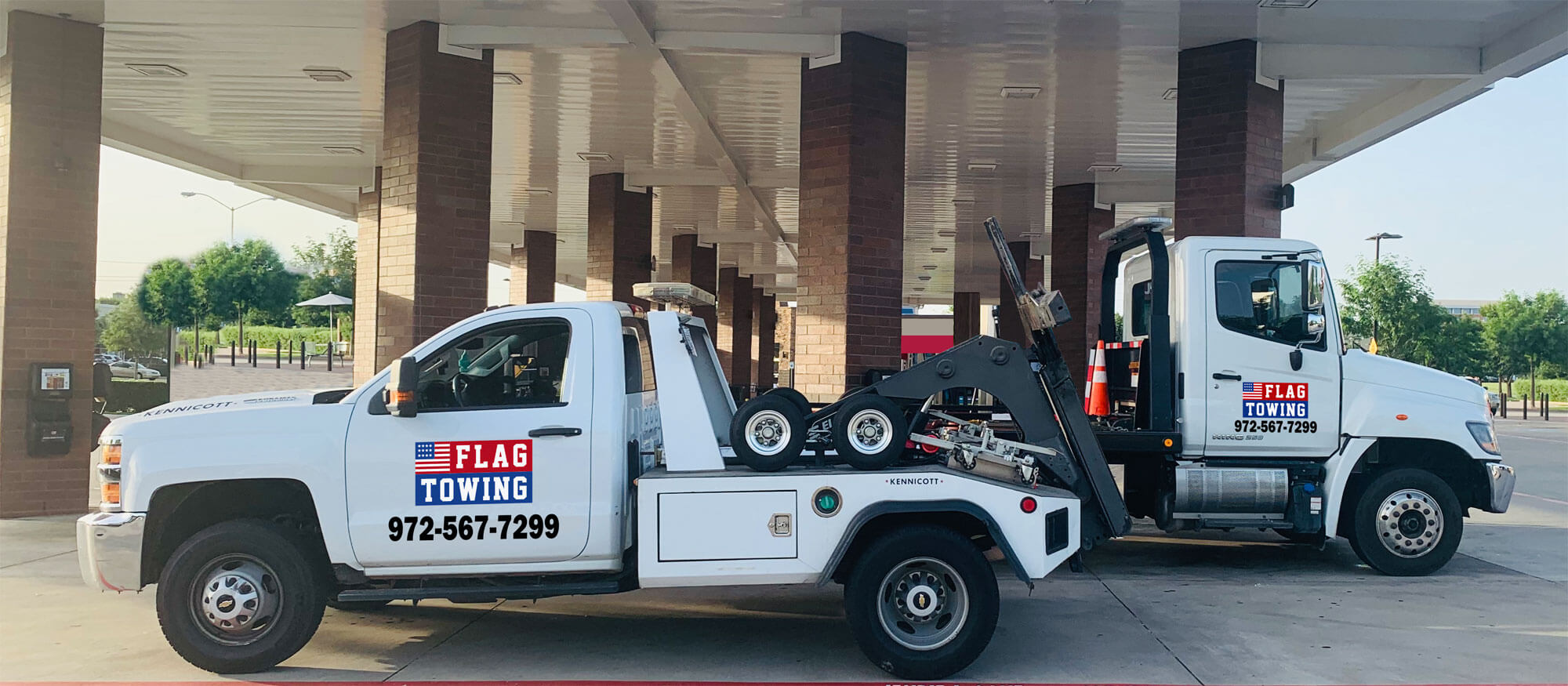 Emergency towing needs can be messy and pressing business. In those chaotic times, you need a knowledgeable and experienced person who can save you from any further damage. Flag Towing and roadside assistance boast a team of highly adept professionals and courteous team with a service reputation preceding our tow trucks.
Flag Towing offers a fast and reliable towing solution in North Dallas, Plano, Frisco, Allen, McKinney, The Colony for any of your roadside needs. You can count on us to be at your service and meet any of your towing needs. We have a fleet of advanced tow trucks available 24/7 with trained experts to offer towing service at your location. We ensure the utmost care while towing your vehicles to your desired location.
Your location can be a preferred body shop, repair shop, dealership, or your home. Our tow truck drivers make sure to transport your vehicle safely. Customer satisfaction and vehicle safety is our priority.
Flatbed Towing
Flatbed tow trucks are the safest and most secure method of vehicle transportation. A flatbed provides maximum accident recovery, while the vast truck space benefits you by cutting the cost – making it the most inexpensive vehicle towing solution for drivers. At Flag Towing, we have a fleet of high-tech and powerful flatbeds and rollback wreckers to facilitate motorists in North Dallas areas.
Our flatbeds can efficiently tow:
Classic, exotic, sports and luxury vehicles
Forklifts and equipment
Vehicles with missing wheels
SUVs and pick up trucks
Wheel Lift Towing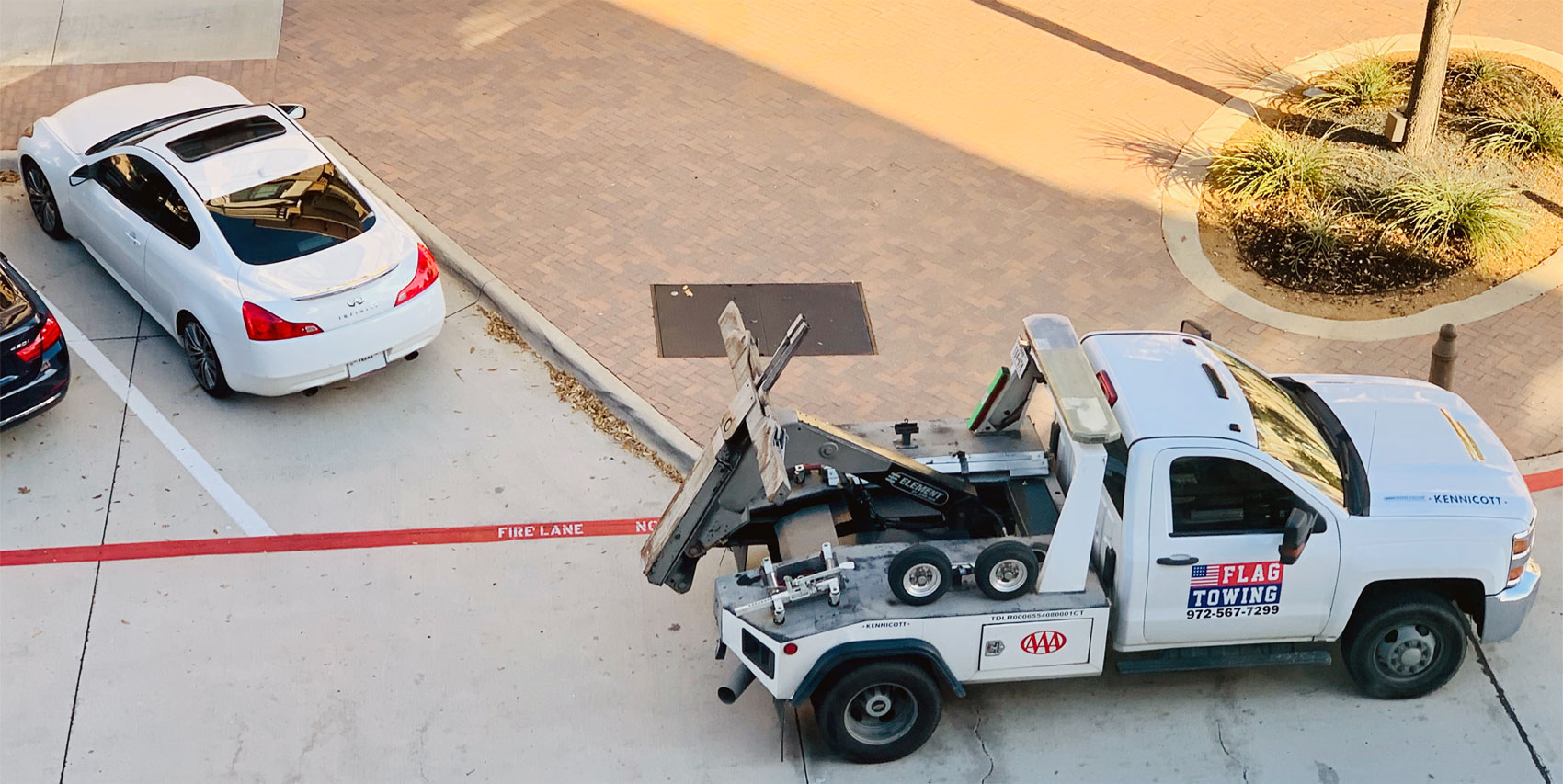 Self-loader wreckers or wheel lift tow trucks are essential if your car doesn't go into neutral or the wheels are locked. In the self-loader wrecker, the trailer hitch of the vehicle is attached with a tow dolly. The uplift towing can offer a cheap and superior towing solution for cars with any type of drive train. Flag Towing can promptly send a wheel lift with dollies to transport your vehicle to safety. Our wrecker drivers are highly professional and experienced to handle any of your towing conditions efficiently.
If your vehicle is stuck in neutral, is locked, or needs a tow from a low clearance garage, call us now, and we can dispatch a wheel lift wrecker to tow your car.

We understand that every towing and roadside situation is unique, and our team fully utilizes their professional expertise to evaluate the situation. This way, Flag Towing sends the nearest tow truck with experts and equipment to assist the customer's needs.
— Tow Truck Service FAQs —